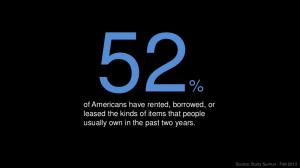 There is huge interest in the sharing economy. Loïc LeMeur actually opened LeWeb with his talk on the sharing economy. So what is this all about? It is about people sharing resources to enjoy them with others. It might be renting out the spare bedroom for tourists, or allowing people to ride in your car when you go somewhere.
The question really is not whether we need to be a part of this as Christians. The biggest question is how we can put this in practice. After all, if we look back at the first church in Acts, they lived together and had everything in common. Technology now allows us to reach out beyond allowing others to join you for a meal. The sharing economy could be the trigger to go out there and share ourselves with the world more than we are doing today.
So, how should we go about it? Should we now all go and clear out the guestroom to have someone stay in there? Perhaps. But more importantly, we need a shift of awareness. Where we have been looking at catering for ourselves on a daily basis and for our church to fare reasonably well, we should reconsider and look at options by which we can collaborate with community. And there are great opportunities to reach out to your community through websites and online services. Even if it is just offering the thing you want to share through Craigslist. It will bring us back into the community catering for the things the community cares about. And if we care about them, we have an opening to share why we care.