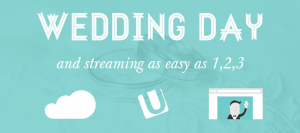 Last week, popular live streaming network UStream announced that live broadcasts of weddings are up 250% over last year. This means that between May 2012 and May 2013 almost 20,000 weddings have been shared with friends and family all over the world. An amazing number. And a number that shows that video broadcasting is no longer just the playground of the large networks. It is for everyone now.
Many couples see the ceremony in the church as the most important part of their wedding day. Which makes it ideal to share with friends and family all over the world. So, have you considered how to cater for this in your church or at your location? If you already have a team that does audio and video for the church, can they link up to an outside network like Ustream? And if you don't have a team, have you thought of the right spots for people with camera's to cover the best moments?
Live broadcasting is becoming more and more important for people. They want everyone to experience what they are experiencing. The Vine and Instagram Video apps have shown that for social media networks. But Ustream has been doing this for much longer. I remember live streaming a ride on the German autobahn through Ustream in 2008. Back then, it still was a hassle to do a live stream. These days, you need nothing more than a smartphone with a good camera to send out your broadcast. Obviously you can improve on quality by using better equipment, but to share an experience, that might not be necessary.
The same that goes for the wedding ceremony also goes for your regular church service. There are many people out there that are not able to attend a service, or are not aware they want to be in one. However, statistics show that the number of Google searches for Jesus has gone up. More people are looking, and it is up to all of us to give them something to look at. Something to experience. Whether that is a great wedding ceremony or the 'regular' Sunday service. It is a way to reach out to people within and outside your direct community.
Ustream put together a nice infographic on wedding live streams.