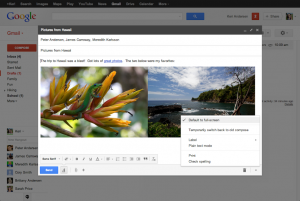 A couple of months ago, Google changed the way you write an email in Gmail. You no longer got a new screen in which you are writing the email. Instead a smaller window would open in the bottom right corner. However, not everyone was happy about that. And Google has listened. So, yesterday they launched their new full screen compose window.
In essence, it is just a popup that goes over the screen you are watching. So, unlike the old compose, it does not send you to a separate page. Other than that, there is not much of a difference. The new compose takes up enough space on your screen and centers nicely. It has the formatting bar in there as a default as well.
You can switch to the new full screen compose by clicking the facing arrows in the top right corner of the compose window to switch to full screen. If you click the more options button, you can set Gmail to open the new full screen compose as your default setting.
So, do you use Gmail at all? And if so, which compose window do you like best?