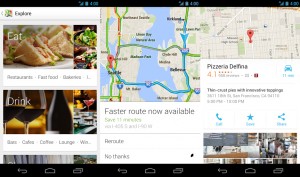 Last night Google has started the roll-out of the new version of Google Maps for Android devices. The new Google Maps adds traffic information, suggestions for alternative routes and a great new view to explore your area.
On of the great updates for Google Maps has been the inclusion of information on traffic, road works and closed roads. This brings Google Maps closer to the upmarket navigation systems as well as closer to other mobile apps that did include that information. I think that this inclusion will be one of the first features we will see Maps inherit from former opponent Waze. Waze was acquired by Google about a month ago for an estimated U$1.1 billon. This update to Google Maps could show us that integration of the technology of Waze into Google Maps might be closer than we think. For now, we can all enjoy better routing and suggestions for shorter travel times. And that is a definite improvement.
Whether it has to do with the new active routing or whether Google has had other reasons, fact is that offline maps have vanished. From 7.0 users no longer have the option to easily store maps offline on their phone so they can navigate without using a data connection. The decision to drop offline maps might be because it was known not to be perfect all the time. However, for the real enthusiasts the Google engineers have included a work around in the app. If you look up the map information that you want to use when offline, you simply type "okay maps" info the search box and hit enter. The app should then store that part of the map, though you cannot use it for navigation without an online connection.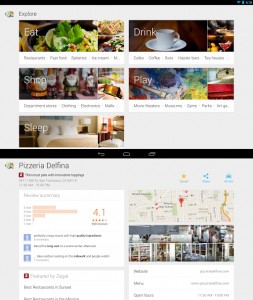 Businesses will be grateful for the new screens to display their information. These are especially nice on a tablet. Here you can find lots of details about the business you are visiting. And the explore screen really helps you to find your way around your area. Whether that is a known or unknown area for you, it is going to be easy to find a place to eat, dance, watch or do something else.
Google will be rolling out Maps in the coming day(s) to all its users that use Android 4.03 and newer. What do you use Maps for most? And what excites you in these new features?