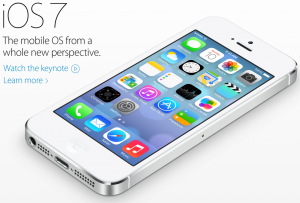 Yesterday, at their WWDC conference, Apple introduced their new iOS7 operating system for the iPhone and iPad. Obviously there are many new features that are an improvement from iOS6. However, the big question with any upgrade of your phone is what the changes mean to you.
At the bottom of this article, you will find an overview of a number of new features that are introduced to iOS7 and that will hit iPhones somewhere in the fall. The good news is that a lot of phones will actually get to benefit of the new iOS7 features. But the feature that might be the best one to have, will only be released to the iPhone 5, the iPad 4, the iPad mini and the iPod touch 5th generation. That feature is called Airdrop and it will help you to share with the people around you.
Sharing amongst phones and tablets is not new. But Apple's Airdrop does make it easy. It searches for other compatible devices that are close to you, and then you can choose what document you share with whom. Which makes it very easy to share the latest information that is needed for your meeting. Or to share your bible study with the group you were meeting with. Without having to physically connect to the various devices that people carry. Unfortunately Airdrop will only be released to newer Apple devices. This will narrow down your options for sharing, but if you are up to change the phones for your whole team, this might be a great reason to make sure everyone will run iOS7.
What are the other new features in iOS7?
The new Control Centre allows you easy access to Airplane Mode, wi-fi, Bluetooth, screen brightness, your music and other things. You can find Control Centre by swiping upwards from the bottom of the screen.
iOS7 comes with a revamped Notification Centre. It is now also accessible from the lock screen to give you an easy overview of all your alerts. New is the Today feature, that shows you an overview of what is ahead for that day.
We have seen filters that change the colors of the pictures you have taken in popular apps like Instagram and Snapseed. Apple has now integrated filters into the iOS7 camera app. The new camera app also makes it easier to switch between the different camera modes the iPhone offers.
A new Moments feature has been added to the Photo app. Here you can find media based on where you are and what time it is. It also allows people to share streams with friends and family through iCloud, so it is even easier to keep everyone up to date.
The browsing experience on iOS7 has been greatly improved with the addition of full screen browsing to Safari. You can now also store all your passwords and credit card details on iCloud, if you would want to. This allows you to use that data across all your devices that you use the new Safari on. A welcome addition to Safari are the parental controls, which allow you to block access to adult material amongst other things.
If you like to ask your phone questions, you will be pleased to know that Siri has received new female and male voices. Siri also connects to Twitter, which allows you to hear Siri read to you what people are posting there. Siri now also integrates Bing and Wikipedia.
Following the examples of other music services, Apple has updated the Music app with iTunes Radio. It streams audio online and already features over 200 different radio stations you can listen to. Alternatively, you can build your own station with the music you like. This is not only available on iOS7, but it iwll also come to the Mac, PC and Apple TV.
On the technical side, Apple has improved the way multitasking is working, so your apps will switch faster and will also use less power to keep on running in the background.
That is an overview of the changes for iOS7. Apple also announced a new operating system called OS X Mavericks, a new line up of four new Macbook Air models, and a glimpse of the new Mac Pro.